Lamp helps Hinckley & Rugby Society to create a more open and transparent environment around mental health at work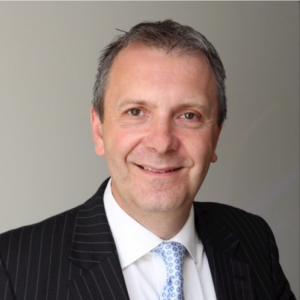 Colin Fyfe, the Chief Executive of Hinckley & Rugby Building Society (HRBS) in Leicestershire, discusses the steps his organisation took with Lamp's help, to improve the management of mental health in the workplace.
HRBS is a founding member of Lamp's Business Club and has been a committed supporter of various events and initiatives related to the charity.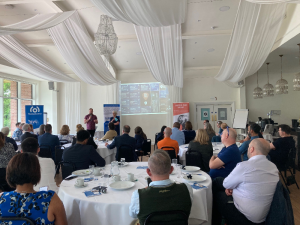 As the issue of mental health in the workplace has gained more attention in recent years, Colin wants to make sure that employees have the support and interventions they need.
Here, he talked about a cultural shift at HRBS through various initiatives such as an online portal that helps employees manage their own mental health, as well as mental health first aid training provided by Lamp, which has equipped them with the knowledge to identify those who require mental health support.
When Colin took up the role of Chief Executive of HRBS at the end of 2018, one of his first tasks was to tackle the mental health of its 166 employees across the head office and 10 branches even before the pandemic hit.
"In the few months leading up to the pandemic, we were working on our environmental, societal and corporate governance strategy (ESG)," explained Colin.
"When we looked at the 'S' for societal, we decided that we wanted to focus on mental health and wellbeing. So we created a committee of about eight members of staff, who started to meet regularly to generate ideas. The first thing that they highlighted was that the culture of the organisation has to be the first signpost that says 'this is an open and transparent environment'".
To address this need, Colin engaged in a series of actions, the first of which, involved him being filmed in an interview with an HR manager where he talked about his own experiences of mental ill health. The film was then circulated to all staff. He explained the rationale behind his decision and said, "I guess I'd got to a point in my life where I'd listened and learned and if I can pass it on to others, it's the best thing I can do."
"This was followed by quite a number of different actions to demonstrate that we were serious about the culture," he added. One of which, was to join Lamp. He explained, "We didn't just want to sign a cheque for charity – we didn't want to virtue signal. We wanted to show we are serious about mental health."
In 2019, Colin helped Lamp to create its Business Club, which consists of a group of employers in Leicestershire, who get together and share how they are supporting their employees' mental health so they can learn from each other.
While his candour encouraged his staff to share their own stories about dealing with anxiety and depression, according to Colin, they needed to go further. As a result, "we created various levels of support."
Drawing on Lamp's expertise, HRBS trained five members of staff to become Mental Health First Aiders and created tiers of different support within HRBS. These include:
A Mental Health and Wellbeing Charter underpinning the Society's pledge that its staff's wellbeing is a priority.
An online portal offering information and guidance that staff can access if they prefer not to speak to anyone.
Employees can talk to someone internally such as a Mental Health First Aider.
The Employee Assistance Programme provides access to independent, qualified mental health professionals.
Private counselling with a partner consultancy firm and arranged by HRBS.
"It's really important to provide a number of levels of support as everyone's circumstances are different. Some people feel they can talk openly, while others may want to keep their issues completely hidden. This approach is working for us."
The change has not called for a large occupational budget: "We've probably spent about £5,000 in total," he said.
To determine the initiative's success, Colin prefers to stand back and look at how the culture has been transformed. While absences due to sickness have reduced, he is certain that they have created a strong and clearly defined workplace culture, one that can take the business to the next level.