Staying physically active can have positive effects on mental health. It can reduce stress, anxiety and other mental health issues, and increase self-esteem (Mental Health Foundation, 2020; NHS, 2019).
Lamp provides support and services to those who are looking to seek help with their mental health.
Mental Health Awareness week (10th – 16th May) provides the perfect opportunity to raise awareness of the benefits physical activity can have on your mental health.
Lamp want to encourage you to get active during mental health week to better your mental health and increase your wellbeing by taking part in a 5k activity of your choice. Walking, running or cycling may be the most common forms of exercise but feel free to be creative. Swimming, rowing or even a simple dog walk may be your thing; or how about combine three activities together over the week for a Lamp Triathlon or doing an activity in fancy dress
To get involved is simple
Step One
Decide on an 5k activity (Relaxed, Challenging, Fun or Creative – anything you want to get involved with)
Step Two
Step Three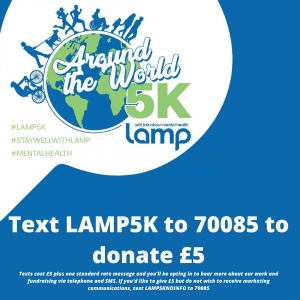 Purchase the Lamp 5K T-Shirt with a donation of the purchase going directly to Lamp – BUY HERE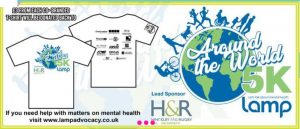 Step Four
Get your household, family or support bubble involved and get active! Share and promote the importance of physical exercise leading to better mental health. Don't forget to tag Lamp and use those hashtags.
#Lamp5k #mentalhealth #lamp #staywellwithlamp
Exercise is a natural and effective anti-anxiety treatment. It relieves tension and stress, boosts physicaland mental energy, and enhances well-being through the release of endorphins.
Our Headline Sponsor
Click here to review our FAQ's
Can I do more than 5k?
Absolutely, every mile will help us achieve our goal of 40,000KM
Where is the event?
This is a virtual event so can be done anywhere you'd like. We just ask that you get outdoors to complete your activity.
How can I log my 5k contribution?
There are many ways to log your contribution, either post your achievement the Lamp 5K Facebook Event Page or simply use the hashtags #lamp5k #stayingwellwithlamp #mentalhealth on your social media pages. You can log and post your miles on the Strava Lamp 5k Club, or simply share a screenshot of the results on your fitness tracker  (E.G Fitbit, Apple Watch etc)
How do I donate or start a fundraiser?
There are lots of fundraising ideas in our downloadable Lamp 5k Fundraising pack but if you wish to donate please use the VirginMoneyGiving links on this page. Whether its £1 or £50, every penny counts towards helping someone in need struggling with mental health.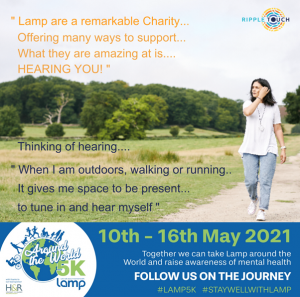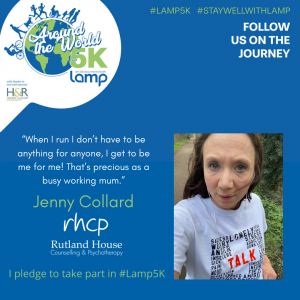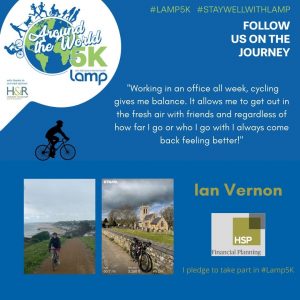 Need some fundraising Ideas?
Download our Lamp5K Fundraising Pack below or simply donate on the below link
Train with others and join our Lamp 5K Club