Lamp supporters go around the world twice in aid of mental health
As part of the Lamp5k initiative, people walked, ran, cycled, rolled and swam the equivalent distance of twice around the world
During Mental Health Awareness Week 2021 (10-16 May), local mental health charity, Lamp (Leicestershire Action for Mental Health Project) challenged people to 'go around the world' by walking, running, cycling, skating or swimming 5km, as part of its Lamp5k initiative.
The initiative was a great success with thousands of people locally, nationally and internationally taking part. As well as many independent participants, around 1,500 people joined the dedicated Strava running group from all over the world, as far away as Russia, Vietnam and India. The aim was to cover enough distance to travel around the world once and this was not only achieved, but doubled by the end of the week.
Donations are still being collected for the amazing efforts of all participants in the Lamp5k. You can pledge your support by donating at www.lampadvocacy.co.uk/lamp5k/
Despite the inclement weather, local author Stewart Bint took a literal approach to this year's theme, embarking on two 5km walks, all while barefoot. A keen walker and advocate for good mental health, Stewart trudged across fields, bridleways, gravel paths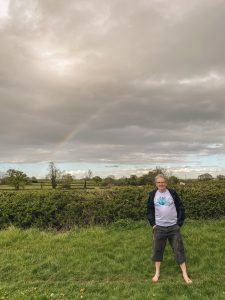 and urban streets without shoes or socks to challenge himself, both mentally and physically.
Stewart commented:
"I've been passionate about mental health after suffering a crisis in 1997, which led to me being hospitalised for 10 weeks. When I learned of Lamp's 5k event, it seemed an ideal opportunity to raise awareness of Lamp and demonstrate how regular exercise helps me."
Leicester South MP and Shadow Secretary of State for Health, Jon Ashworth, also got involved by running 5k around Victoria Park in Leicester. He was joined by Lamp ambassador, Greg Hollingsworth and colleagues.
Jon Ashworth MP said:
"It is a pleasure to join Greg to highlight the importance of exercise to people's mental health. In Leicester we have been subject to restrictions more than any other city over the last year or so, and we all need to look after our own and other's mental health."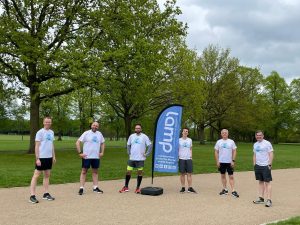 Leicester-based digital agency, Cite, also took part in the Lamp5k with 18 members of staff taking to the city streets, walking from their offices on Friar Lane, past some of Leicester's iconic landmarks.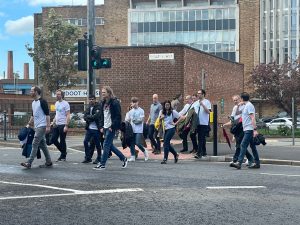 Dafydd Pritchard, Director of digital agency, Cite, said:
"When we heard about Lamp's 5K initiative to support Mental Health Awareness week, we jumped at the opportunity to take part! By coordinating our own 5K with lockdown restrictions being eased, it was the perfect chance to meet up with colleagues after such a long time, in the safety of an outdoor setting. Importantly, it also brought home to many of us just how difficult isolation has been, and the importance not just of socialising with other people, but getting outside and enjoying some fresh air and taking care of our mental health."
Children from age 3 to 11 at Glebelands Primary School in Leicester also took part in the Lamp5k challenge as part of its 'Active Track' activities. In total, they ran a whopping 470km between them, some carrying an inflatable globe as they ran.
You can view a selection of images of some of the highlights of the Lamp5k challenge at www.lampadvocacy.co.uk/lamp-5k-round-up
Shaun Johnson, Chair of the Lamp Board of Trustees added:
"We were blown away by the sheer number of people who got involved with the Lamp5k, took on the challenge and supported the critical work that we do for mental health in Leicester, Leicestershire and Rutland. We give massive thanks to all of the participants, staff, ambassadors, sponsors, friends, family and colleagues who took part and really made a difference."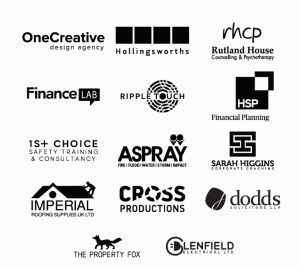 Local businesses also supported the initiative including lead sponsor, Hinckley & Rugby Building Society, plus One Creative Design Agency, Hollingsworths Solicitors, Rutland House Counselling and Psychotherapy, Finance Lab, Ripple Touch, HSP Financial Planning, 1s+ Choice, Aspray, Sarah Higgins Corporate Coaching, Imperial Roofing Supplies UK, Cross Productions, Dodds Solicitors, The Property Fox, Glenfield Electrical, The Funk Academy and Fosse 107.
Colin Fyfe, CEO at Hinckley & Rugby Building Society commented:
"We are proud supporters of Lamp and were delighted to be involved in this event, with nearly 50 staff from the Society taking part. As a business, we encourage colleagues to take their own wellbeing and mental health seriously and are committed to providing support when it is needed.

"Earlier this year, we invited staff to sign up to our own Wellbeing and Mental Health Charter, putting this important issue at the centre of everything we do. Being a mutual, one of the Society's priorities is to give back to our community and this was a perfect opportunity to do this."
The last year has seen a huge surge in demand for mental health advice and support. Lamp's average number of monthly calls had doubled by October 2020 and the annual target for advocacy support for April 2020-March 2021, was reached last year, months ahead of schedule.