Leicester family to launch special memorial event on 17 December to raise funds for Lamp
The family of Byron Allred, a young man from Leicester, is organising a special memorial event called Byromania. The event will celebrate the life of their much-loved son who took his own life 10 years ago and also aims to raise awareness of mental health.
Byromania will be held on Friday 17 December at 7pm at the Railway Pub in Countesthorpe, Leicestershire and promises to be a fun-filled evening with a karaoke party and a lucky draw which will raise funds for the Lamp (Leicestershire Action for Mental Health Project) charity.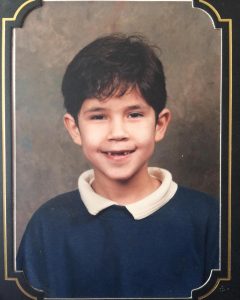 For details on Byromania and to make a donation, click here.
Byron was described as well-liked, sociable, adventurous and outgoing by family members, who were devastated by the loss of their son. Despite this, and to honour her step-son, Byron's stepmother Sue Allred said that she was determined to help people who might be struggling in a similar way.
"We wanted to raise funds for a local mental health charity as it is so important that people get help when it is needed. Byron was a beautiful soul but he decided to take a permanent solution to a temporary problem and the consequences destroyed our family. Lamp has been amazing and set up a JustGiving page for us which has raised £148 so far.  They also provided us with a letter to present to local businesses when we ask for donations which encouraged several companies to generously donate prizes for our raffle. More importantly, local residents have also generously donated prizes and bought raffle tickets. So far, we have gathered over 50 prizes and sold over £500 worth of tickets. We set our fundraising target at £1,000 and are well on the way to achieving it."
Richard Kotulecki, Lamp's CEO welcomed the effort and said:
"We would like to thank the Allred family, as well as Byron's friends and colleagues, for shining a light on mental health and how suicide is currently the biggest killer amongst young men. By drawing on their personal tragedy to help raise funds for Lamp, their efforts underline the tremendous positive impacts of mental health advocacy that help those in need to heal and stay alive."
According to the Office for National Statistics, in 2020, there were 5,224 suicides registered in England and Wales and around three-quarters (3,925 deaths or 75.1 per cent) were men. This follows a consistent trend back to the mid-1990s.
Lamp's mental health advocacy team can be contacted at 0116 255 6286 or via email.