Amazon Coalville team takes on the Peak District for charity
Employees from the Amazon fulfilment centre in Coalville recently took part in a ten-mile hike in the Peak District in aid of the Lamp mental health charity and were guided by a team from the Leg Up Project.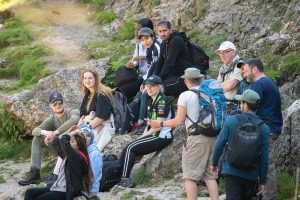 Lamp supports people living in Leicester, Leicestershire and Rutland with advocacy services to help them access mental health services.
The Leg Up Project is a social hub that supports in outdoor activities to positively impact mental health. Activities include organised walks, wild swimming and river adventures.
To mark the team's hike, Amazon in Coalville made a donation of £1,000 to Lamp.
Richard Cowlishaw-Ellison, General Manager at Amazon in Coalville, said:
"Lamp does important work in our community, and we're pleased to support the charity with this donation. We're proud of the efforts of our colleagues on their hike through the Peak District and it was great to welcome them back after their fundraising efforts. Thank you to the Leg Up Project for safely guiding our team during their hike."
Stuart Rutherford is an employee who works at Amazon in Coalville and took part in the walk. He added:
"This walk was a great way to bond with my colleagues. Lamp and the Leg Up Project are fantastic organisations and I'm glad we can support them."
Richard Kotulecki, Chief Executive of Lamp added:
"We're thankful for the support of Richard and the team at Amazon and thank them for this donation. I'd also like to say a big thank you to the Amazon employees who joined the hike through the Peak District for their support of our organisation. The money raised will support the services of our advocacy team who help people navigate their way through the local mental health system."
Lamp received the donation as part of Amazon's programme to support communities in and around its operating locations throughout the UK.
Amazon is providing disadvantaged students with online STEM courses as well as teaming up with charity partner Magic Breakfast and delivering more than six million healthy breakfasts to families across England.