Artisan market at The Arches to raise funds for local mental health charity
The Leicestershire Action for Mental Health Project (Lamp) mental health charity has been selected by residents of The Arches rental apartments in Leicester to receive support, as part of The Arches' corporate giving programme for the year.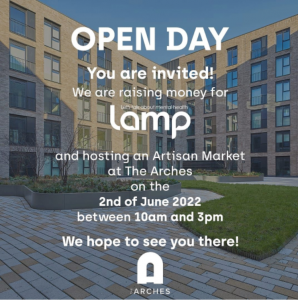 The first fundraising project to emerge from the new business/charity partnership is an artisan market at The Arches, which will take place on 2 June 2022 at The Arches, Bath Lane, Leicester LE3 5FJ. The Arches has committed to donate stall holder fees and general funds raised on the day to Lamp. The event will also celebrate the Queen's Jubilee.
At the artisan market, visitors will be able to browse through around 20 stalls featuring the finest artisan traders who will showcase specialty food and drinks, and accessories for the home. These include craft beers, artisanal cheeses, sweet treats, exotic spices and baked goods, as well as hand poured candles, handmade jewellery, hand thrown pottery, garden ornaments and more. It will also be an open day for The Arches so members of the public can attend and look around the facilities from 10am to 3pm.
Trudie Donoghue, The Arches' General Manager said:
"We are delighted to be working with Lamp and recognise the importance of the charity's work in mental health advocacy. Our residents have made it clear that mental health is a cause that they care about and this is why they have chosen to support Lamp. We are looking forward to working with the charity to raise awareness of the prevalence of mental health issues among the local population, whilst also drawing attention to the help that the charity can extend to those who need it."
Richard Kotulecki, Lamp's CEO added:
"We are delighted to forge a new partnership with The Arches. It is particularly heartening that our ethos resounded with The Arches' residents who voted for us as their chosen charity. The happy occasion of the Queen's Platinum Jubilee is a great setting for the artisan market and we are looking forward to making it a success. With help from The Arches and its residents, Lamp can benefit from increased awareness and also strengthen the visibility of our mission."
Traders who would like to set up a stall at The Arches' artisan market on 2 June can contact Charlotte Brown at charlotte.brown@cortland.com, on 07594516549 or via Instagram at @thearchesleicester.