Carers Group: Christmas Table Decorations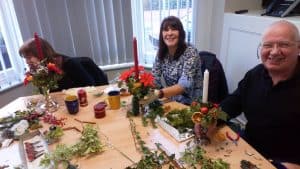 Looking after another with a mental health condition can be tough. As a carer it tends to leave little room for time outside of caring. For many, becoming a carer of a loved one can mean the caring role becoming a carers full time job. To introduce some reprieve for those caring for a loved one, a family member, a neighbour or a friend, we hold carers groups, with an array of activities from crafts to talks on information that directly affects carers.
For this months group in Leicester City, our Carers made Christmas Table Decorations with the help of Rowena, our Carers Advocate and Family Support Worker.
As a means of providing a therapeutic session of crafting, they got to work and made some wonderful decorations with an array of leaves, candles, flowers and dried oranges. We are glad that our carers enjoyed this morning of crafting, and we hope it was a lovely introduction to this years festive season.