Comedian Rob Gee announced as new Patron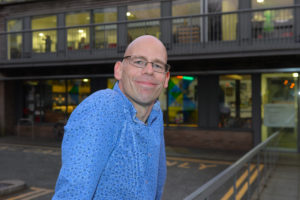 As someone who has been an enormous fan of LAMP for many years, I'm delighted and very flattered to be asked to be their patron. LAMP have always been at the forefront of the drive to reduce stigma in mental health and their advocacy work is becoming increasingly necessary in times of disability cuts, overstretched mental health services and economic uncertainty.
I first moved to Leicester in 1991 to start psychiatric nurse training. LAMP have been around since then and I'm pleased to say that at least one of us has gone from strength to strength in developing as an organisation and working to reduce the stigma associated with mental ill health. I've tried to do the same, but I'll never be nearly as organised! It's hard to imagine Leicester without LAMP and they have been an inspiration for many years.
Psychiatric illness is not something that happens to other people and when life does take us too seriously, we need people like LAMP to speak on our behalf, educate those around us and help us find our way through the services. Reducing stigma improves recovery, which in turn relieves pressure on the mental health services. In supporting LAMP, I hope to be a greater part of this process.