Jack Radford, a student who raised funds for Lamp, is named Young Fundraiser of the Year
Jack Radford, a student at Gartree High School in Oadby, has won the Young Fundraiser of the Year award in the Leicestershire Community Champion Awards. The award recognises those under the age of 18 who have raised a significant amount for charity or have used an innovative way to fundraise, raise awareness and inspire the community.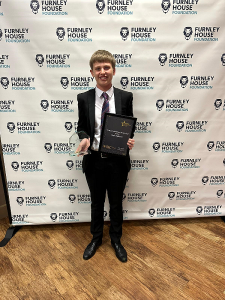 Jack successfully raised over £1,500 for Lamp in a day-long drumming challenge earlier this year.
Lamp was also named a finalist in the Charity of the Year category and faced strong competition from a field of distinguished organisations. Falcon Support Services, a charity that supports the homeless and vulnerable people in need, emerged as the winner in this category.
This year's awards ceremony was held on 17 November at the Leicestershire County Cricket Club. The award was presented by Furnley House Foundation, a charitable organisation that specialises in financial planning for those in need.
The Leicestershire Community Champions Awards is an annual event which celebrates the endeavours of Leicestershire individuals and organisations who continually go above and beyond to help and improve the lives of those in need. It also recognises unsung heroes whose work and dedication make a massive difference to the local area, and  may otherwise go unnoticed.