Jonathan Ashworth MP to complete Lamp 5k challenge for mental health awareness
Watch MP Jon Ashworth and Cllr Rashmikant Joshi supporting the Lamp 5k Trip to the Moon Campaign
Jonathan Ashworth, MP for Leicester South and Shadow Secretary of State for Work and Pensions, has joined Leicestershire Action for Mental Health Project (Lamp) to complete the charity's 5k challenge ahead of Mental Health Awareness Week from 9-15 May 2022.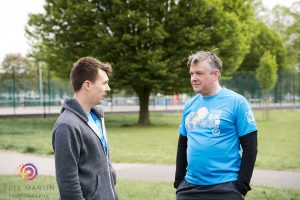 Jonathan Ashworth joined Lamp staff, event partners and ambassadors at Victoria Park in Leicester on Friday 29 April to complete a 5km challenge by running, walking, cycling and dog walking. The event serves as a curtain-raiser for Lamp's week-long Trip to the Moon 5k fundraiser which will take place during Mental Health Awareness Week and aims to promote the positive effects of physical exercise on mental health.
Lamp is encouraging everyone to take part in a 5k or more physical activity as part of its Trip to the Moon 5k campaign. This can include walking, running, cycling or roller-skating, to collectively reach 384,400km – the distance from the Earth to the moon, and raise money for each kilometre covered, aiming for a total of £38,440. The funds will go towards supporting the charity's services.
For details on Lamp's 2022 Trip to the Moon 5k challenge and to see how you can take part, click here.
Jonathan Ashworth MP said:
"It's a pleasure to lend my support to Lamp once more as part of this year's Trip to the Moon 5k campaign. As a leading local mental health advocacy charity, Lamp plays a vital role in helping people seek support for their mental health issues. The charity's role in mental health has come into sharp focus as we have had to contend with the Covid-19 pandemic and its associated lockdowns. I encourage everyone to take part in Lamp's Trip to the Moon campaign. Engaging with others through taking up a 5k challenge is a great way to create a network of friends who share your passion for exercise whilst maintaining a healthy lifestyle to strengthen your mental health."
Richard Kotulecki, Lamp's CEO added:
"We are grateful for Jonathan's support and hope that his example will show how the Lamp 5k can continue to promote the positive impacts that physical exercise can have on people's mental health and raise some valuable funds for the charity."