Kwoklyn Wan – Food For The Soul
Growing up at home, we were surrounded by food; Mum would bake Rock Cakes for when we got home from school and when we visited Dad's restaurant we would be served big bowls of noodles or hot chicken soup and a crusty cob ('roll' if you live outside of Leicester).
Every occasion was accentuated by the feast that my parents would prepare; Birthdays, Christmas, Chinese New Year, Awards and Achievements were all celebrated with deliciously noisy meals where the whole family crowded around the table and tucked in; equally, moments of sadness were soothed with dishes of comfort, cooked with care by my parents and served to us with love.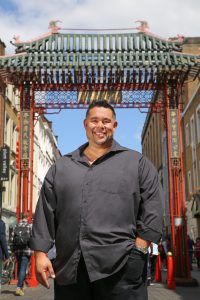 So I guess it's no surprise really that now, at 46 and a half years old, food still plays such an important role in my life. First thing in the morning as I wake, I'm planning my day – not by the work I have to do but what I'll be eating! Deciding what dishes to knock up when the kids get home from school or what tasty lunchtime snack I might have.
Food now quite literally puts food on my table by way of my cooking for others or teaching people around the world how to cook via my books, magazine articles or from the videos I create but also provides me the release that we all sometimes need. For me, cooking and enjoying food is my go-to activity; my safe place, my comfort blanket. When I'm happy I share food with those I love the most and when I'm sad I sit and let food wrap itself around me and hold me tight. So many people like me turn to food as their coping mechanism; when life lets you down or everything feels as though it's all just a bit too much, taking the time out to carefully prepare a meal whilst listening to an old favourite track can calm the mind and then other times, a simple sticky jam doughnut or a big plate of rice and gravy can really make things feel that little bit easier.
#MentalHealthAwareness