Lamp is Charity of the Year finalist in this year's Leicestershire Community Champion Awards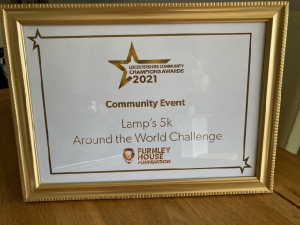 Lamp, the Leicester-based mental health advocacy charity, has been named as a finalist in the Charity of the Year category in the upcoming Leicestershire Community Champion Awards. The Charity of the Year category is open to registered charities only and aims to recognise a charity that has made a difference to the local community.
This year's awards ceremony will be held on Thursday 17 November 2022 at the Leicestershire County Cricket Club. The award is presented by Furnley House Foundation, a charitable organisation that specialises in financial planning for those in need. The winner of this category will receive a £5,000 grant.
This is the second year running that Lamp has featured in the annual awards. Last year, Lamp won the Community Event of the Year Award, in recognition of the positive impact made by the Lamp 5k Round the World Challenge in bringing the community together in a creative way and raising collective spirits.
Richard Kotulecki, Lamp's CEO said:
"We are delighted to have been named a finalist in the Charity of the Year category. This has been a busy year for Lamp and in addition to our annual Lamp 5k campaign, we have conducted several key projects in the community. These include forming a new partnership with the Belgrave Neighbourhood Co-operative Housing Association (BNCHA) to strengthen our engagement with minority communities in Leicester, whilst also running a community mental health survey in conjunction with Anglian Water. In addition, our team of advocacy specialists has provided a free independent mental health service and have made almost 2,500 separate client/public/resident interactions. These interactions are a part of the extensive work that Lamp has delivered, supporting around 450 advocacy referrals in the areas of community mental and physical health, carers advocacy, carers groups and informal patient advocacy. We will continue to uphold our commitment to support those in need of our advocacy services. While it is an honour to have been named a finalist, we hope to go on and win the Charity of the Year Award – which would be the icing on the cake!"
Lamp is also delighted that Jack Radford, a student at Gartree High School and a keen supporter of the charity, has emerged as a finalist in the Young Fundraiser of the Year category after he raised over £800 for Lamp in a day-long drumming challenge in April.
The Leicestershire Community Champions Awards is an annual event which celebrates the endeavours of Leicestershire individuals and organisations who continually go above and beyond to help and improve the lives of those in need. It also recognises unsung heroes whose work and dedication make a massive difference to the local area, and  may otherwise go unnoticed.