Lamp receives National Lottery funding boost
Lamp has received almost £50,000 in funding from The National Lottery Community Fund, the largest funder of community activity in the UK.
The money will help the charity to extend its work with those experiencing mental health problems in Leicester, Leicestershire and Rutland and comes at a crucial time when the charity is severely impacted by the pandemic.
The government and medical bodies have widely acknowledged that the coronavirus crisis will affect the nation's mental health and Lamp is seeing the impact of this already. Staff report that calls to its helpline have surged and the cases of those who are getting in touch are increasingly complex.
The lockdown restrictions mean that the charity, which provides advocacy support to mental health sufferers and carers, has been unable to work in its usual way, such as by making visits to hospital wards, holding one-to-one outreach sessions and attending appointments with clients.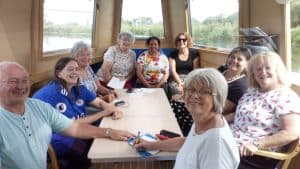 But the National Lottery funding offers a lifeline, meaning that Lamp can continue to reach those who need support the most by offering its services in new and diverse ways.
CEO Sue Langley explains: "The pandemic has had a huge impact on Lamp. All staff have been required to work from home and we could no longer meet with those we support or hold any of our five carers groups. This was a blow. Despite this, demand for our support has rocketed and we have been determined to continue to be there for the communities we serve.
"We were forced to think on our feet and very quickly adapt our services in order to offer a more advanced telephone system and a digital advocacy service, holding video calling sessions and group online meetings.
"We needed funding in order to develop this, as well as train staff in new areas and be able to pay for the extra advocacy hours to cope with current demand."
Lamp was awarded the full £49, 701 applied for from The National Lottery Community Fund to help the charity develop its digital platform and recruit new advocates to help cope with the demand for its services at this time.
CEO Sue Langley added: "We are extremely grateful to have been awarded this funding from The National Lottery. The time to support mental health really is now and it is a relief that this has been recognised by the reaching communities Covid-19 fund. Our advocates talk to people from all over Leicester, Leicestershire and Rutland who need mental health support, as well as carers and we hope that this new way of working, coupled with our
outreach when life returns to normal, will mean Lamp can support many hundreds more people this year."
Established in Leicester more than 30 years ago Lamp provides free to access mental health advocacy services to mental health service users and carers across Leicester, Leicestershire and Rutland. Professionally trained advocates support clients in many ways, from listening and helping them plan for the future, to attending GP or outpatient appointments with them (when restrictions do not apply) to writing letters on their behalf and sign posting to other services.
Nicola Thurbon, Senior Head of Regional Funding for the Midlands at The National Lottery Community Fund said: "We are inspired and reassured by the strength we're seeing in communities across Leicestershire. Although we're beginning to see lockdown restrictions ease, community organisations – big and small – are still grappling with the impact caused by the crisis.
"National Lottery funding is life changing for projects like Lamp in keeping their communities connected and reaching those who need the most help. Our priority is to continue getting funding, which is more vital than ever before, out to community groups so they can rebuild and recover from this pandemic."
The National Lottery Community Fund distributes money raised by National Lottery players for good causes. Last year it awarded over half a billion pounds (£511.1 million) of life-changing funding to communities across the UK and supported over 12,000 projects to turn their great ideas into reality. 90% of the grants it makes are for under £10,000 – going to grassroots groups and charities across the UK that are bringing to life amazing ideas that matter to their communities.
To find out more visit www.TNLCommunityFund.org.uk
ENDS
NOTES TO EDITORS:
About Lamp
· Last year Lamp supported 2, 185 people across Leicester, Leicestershire and Rutland.
· This year Lamp expects to reach around 6,000 people.
· Lamp is currently running an online Wellbeing Tips campaign – releasing a tip on social media each day at 10am
· CEO Sue Langley is available for comment · Contact Penny Stretton pennystretton@lampdirect.org.uk 07974004247
About The National Lottery Community Fund
We are the largest funder of community activity in the UK – we're proud to award money raised by National Lottery players to communities across England, Scotland, Wales and Northern Ireland. Since June 2004, we have made over 200,000 grants and awarded over £9 billion to projects that have benefited millions of people.
We are passionate about funding great ideas that matter to communities and make a difference to people's lives. At the heart of everything we do is the belief that when people are in the lead, communities thrive. Thanks to the support of National Lottery players, our funding is open to everyone. We're privileged to be able to work with the smallest of local groups right up to UK-wide charities, enabling people and communities to bring their ambitions to l