Lamp set to benefit from new Communitrees Winter Gardens fundraiser
Lamp, the Leicester-based mental health advocacy charity, is set to benefit from this year's Winter Gardens fundraising campaign. The campaign, dubbed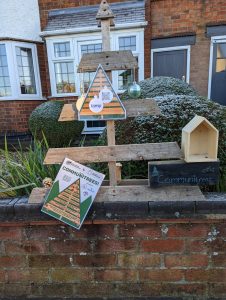 'Communitrees', is calling for people to come along and collect baubles to decorate wooden pallets in the shape of Christmas trees, around the Clarendon Park neighbourhood of Leicester.
Lamp is one of 12 local charities that have been chosen to benefit from the annual Winter Gardens fundraiser. The campaign is an initiative run by Oldman and Sons therapeutic gardening company, which aims to support good causes throughout Leicestershire.
To take part in the campaign, visitors can drop by either the Karma Corner gift shop in Clarendon Park or the Social Coffee Club on Welford Road, where they can obtain a bauble to hang on a Christmas tree in support of their chosen charity. Lamp, along with all the other charities, will each have a stylised (pallet) Christmas tree.
Lamp's tree is on Eastcourt Road in Leicester and donations can be made via the QR code on that tree, which will take you to the charity's JustGiving page. Visitors can also make a £5 donation to Lamp by texting LAMP to 70085. In addition, they can place their donations in collection boxes at Karma Corner or the Social Coffee Club.
Sam Oldman, the owner of Oldman and Sons said:
"This year's Communitrees project – which is a part of our annual Winter Gardens campaign – takes a more unusual turn, as it features Christmas trees made from wooden pallets. The trees themselves are easy and inexpensive to make but more importantly, they are eye-catching and meant to act as conversation starters to get people talking about supporting the various charities that operate in our midst. Generally speaking, the Covid-19 pandemic has had a profound impact on charities. Some struggled to fund their services as restrictions were imposed, while Lamp saw an increased demand as more people turned to the charity when their mental health declined during this challenging period. Due to this, we have chosen to continue supporting Lamp because the work carried out by the charity is of vital importance to people in the area. This is now the third year where we have extended our help to Lamp and the funds raised will enable the charity to continue the good work it does in mental health advocacy."
Richard Kotulecki, Lamp's CEO added:
"We are grateful to Oldman and Sons for their continued support and value our partnership with them. Our tie-up with the firm enhances our presence (in the community) and we hope the unique pallet Christmas trees will get people talking about Lamp's role in the community. At its heart, the campaign intends to get donors involved in creating something unique that they can share with their families and friends, as well as the wider community. We hope each pallet tree will draw on peoples' love for their chosen causes which they can post on social media giving them something to share and talk about, whilst also drumming up more interest for our campaign."
The Communitrees campaign will run from 5 December to New Year's Day, 1 January 2023, in Clarendon Park. All funds raised from this initiative will go towards 12 charities including Lamp, Menphys, Hope Against Cancer, the Bodie Hodges Foundation, Leicester South Foodbank, Home Start Horizons, City of Sanctuary, One Roof Leicester, Pedestrian, LOROS, Leicestershire Cares, Together We Can and Age UK. For more details, to get involved and support Lamp or other participating charities, visit https://oldmanandsons.co.uk/charity-winter-gardens.
Lamp is encouraging everyone to donate the cost of a cup of coffee or mince pies to someone in need this Christmas.
Lamp's team of advocacy specialists provide a free independent mental health service to help people in a number of ways. This includes aiding those may have a mental health need or who want to access care and support for their mental health well-being, or who wish to question a decision about their care and support, as well as those who are caring for someone with mental health issues or are concerned about a family member, colleague or friend.
On average, it costs Lamp £1,000 to help rebuild a person's life following a mental health condition. A simple £25 donation can ensure an individual is accompanied by one of Lamp's mental health advocates during a GP or psychiatrist appointment (based on a standard 10-minute GP appointment).