Lamp to host panel discussion on mental health at 2023 Leicester Comedy Festival
Behind the Scenes: Comedy and Mental Health on 18 February 2023 will explore mental health in the world of comedy.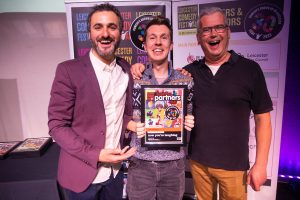 Mental health charity, Lamp will host a free panel discussion at the 2023 Leicester Comedy Festival, Europe's biggest and longest running comedy festival.
Lamp's event will take place on 18 February 2023 at the Attenborough Arts Centre. The 'Behind the Scenes: Comedy and Mental Health' event will feature a panel of comedians who will engage in an open, honest, and insightful discussion and share their personal experiences of comedy and its positive and negative impacts on their mental health.
Lamp's panel discussion aims to give an insight into the minds of comedians in a bid to encourage more conversations about mental health and for people to seek help and speak up when in need. Lamp welcomes input from everyone including comedians, stage performers, writers, venue staff, promoters, and audience members, and offers a chance to ask questions, share their own stories or simply listen and learn.
Richard Kotulecki, Lamp's CEO said:
"I am delighted that we will continue our partnership with the Leicester Comedy Festival. Hosting the panel discussion next year is a great way to encourage the community to come together for some shared stress relief. Laughter, as they say, is the best medicine and when it comes to mental health, sharing your laughter with loved ones and friends can significantly lift your spirits by reducing anxiety and depression, making you happier – plus, it's a great way to build relationships. For the comedians, the process of talking and laughing about painful personal experiences takes honesty, courage, and the ability to set aside the usual comic bravado. This will enable the audience to feel a deeper connection with the performers."
Geoff Rowe, Founder of the Leicester Comedy Festival added:
"I'm thrilled that Lamp are once again taking part in Leicester Comedy Festival and helping us raise awareness of mental health.  Whilst the festival is designed to be as much fun as possible, sometimes festivals like ours can be stressful and difficult for all sorts of reasons. This can have an impact on people attending the festival, but also on those comedians performing and people who work and volunteer for the event who often work long hours pulling things together. A few years ago, we developed the Leicester Comedy Festival Mental Health Toolkit, with support from Lamp, which is now freely available to all acts, promoters and venue staff who take part.  Having the discussion event in 2023 will provide us all with an opportunity to think about mental health and how we can make things better for everyone during the 19-day festival."
Lamp's involvement in the Leicester Comedy Festival strengthens its ties with the event, which can be traced back to 2020 when the charity helped to design a mental health and wellbeing toolkit for audience members to ensure the festival was accessible and supportive of those who were facing difficulties at the time. The toolkit offered useful advice on how to make the best of the festival and what to do if audience members needed support.
In addition, Lamp joined the festival's Business Partners Club as a charity member to support the event, whilst raising its profile and enhancing awareness of its work.
Further details on the Leicester Comedy Festival can be found here while tickets for all the shows can be purchased through the website, as well as the box office. You can call the team on 0116 456 6812 for assistance.