Lamp wins two awards at Leicestershire Community Champions Awards 2023
Lamp has won two awards at the annual Leicestershire Community Champion Awards, run by the Furnley House Foundation.
Lamp Trustee, Minakshee Patel won in the 'Trustee of the Year' category with Finance Manager, Wayne Farmer winning the 'Charity Employee of the Year'.
Emily Coates, Lamp's Head of Advocacy, was also a finalist in the Charity Employee of the Year category. Team Lamp, a group of Lamp supporters and ambassadors who are running 26 Park Runs in 2023 – in locations from A-Z across the UK and Europe – to raise money for the charity, were another finalist in the 'Fundraiser of the Year' category.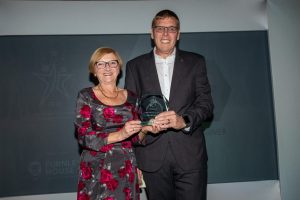 Wayne Farmer said:
"Knowing that by using my financial skills and knowledge to help steer and guide Lamp, I am making a difference to someone's life on their mental health journey, is the main reason why I go over and above in my work for the charity. To be nominated was a complete surprise but to then actually go and win the award, I am totally overwhelmed and completely blown away. At the same time, I am feeling so incredibly proud, grateful, valued and appreciated."
Minakshee Patel said:
"I am over the moon to win the award and really proud to be able to put mental health in the spotlight. In my role, I'm able to elevate the awareness and discourse surrounding mental health to both the local business sector and the wider community. Knowing that I have played a part in bringing mental health to the forefront of people's minds, and crucially the importance of individuals accessing the right support, at the right time and in the right way, fills me with a profound sense of accomplishment."
Richard Kotulecki, Chief Executive at Lamp added:
"The team at Lamp, as well as our Trustees, supporters and ambassadors do an incredible job in highlighting the need for, and importance of, mental health advocacy services to support those people in need across Leicester, Leicestershire and Rutland. Awards like these recognise the unsung heroes who dedicate their lives to vital charitable causes such as ours."