Lamp's chance to win £1,000 festive boost
Calls for nominations from supporters for Ecclesiastical Insurance's Christmas giving campaign
Local mental health charity, Lamp (Leicestershire Action for Mental Health Project) is calling on supporters to nominate the charity to win a £1,000 festive financial boost as part of Ecclesiastical Insurance's annual 12 days of giving Christmas campaign.
Now in its fifth year, the campaign sees the specialist insurer giving 120 different charities an early Christmas gift of a £1,000 donation, with 10 winners announced each weekday from 6 to 21 December.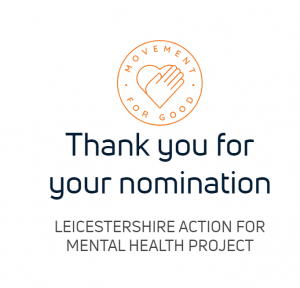 It's quick and easy to nominate Lamp online. Nominations are open until 20 December 2021 and you can vote for Lamp at www.movementforgood.com/12days. Winners will be drawn at random and the more times Lamp is nominated, the more chances it has of being selected.
If it is successful, Lamp intends to put the £1,000 donation towards extending its much-needed advocacy services to people who are coping with mental health issues.
Richard Kotulecki, Lamp's CEO said,
"We are grateful to Ecclesiastical Insurance Group for including Lamp as a beneficiary in their Movement for Good initiative. Their continued support, as well as the help we receive from generous individuals, trusts, foundations and our loyal Business Club members, play a vital role in enabling us to serve our community through our mental health advocacy service.

"Please nominate Lamp as your beneficiary in the Movement for Good initiative and help us win. Your support will enable us to make a lasting impact in raising the awareness of mental health so that we can better care for those affected."
Mark Hews, Group CEO of Ecclesiastical, said:
"As a commercial company with a charitable purpose, giving back is at the heart of our business. In fact, Ecclesiastical is the fourth largest corporate donor in the UK*. Our annual 12 days of giving Christmas campaign has supported hundreds of charities over the past four years and I'm delighted that we will once again help charities change lives for the better.

"We know that for many charities £1,000 can make a real difference. We're encouraging supporters to get their nominations in this Christmas to give them a chance of winning a festive financial boost."
* Directory of Social Change's The Guide to UK Company Giving
About Ecclesiastical
Owned by a registered charity, Allchurches Trust, Ecclesiastical is a unique financial services organisation. With its main operations and headquarters in the UK, Ecclesiastical also operates in Australia, Canada and Ireland.
Ecclesiastical is a specialist insurer of the faith, charity, heritage, education, real estate, schemes and art and private client sectors.
Founded in 1887 to provide insurance for the Anglican Church, the company now offers a wide range of commercial insurances, as well as home insurance, selling through brokers and directly.
The Ecclesiastical Group also includes award-winning investment management business, EdenTree Investment Management, which provides a range of ethically screened investment funds.
Ecclesiastical is the fourth-largest corporate donor to charity in the UK, according to the UK Guide to Company Giving 2021/22. It has donated over £99m to charity since 2016 and is aiming to reach its target of giving more than £100m by the end of 2021.
Ecclesiastical Insurance is a thirteen-time winner of Fairer Finance's best home insurance provider.
Many businesses say they are different. Ecclesiastical really is. Find out why here ecclesiastical.com/aboutus