Lamp's Round the World Challenge wins Community Event of the Year Award at Leicestershire Community Champions Awards
Lamp (Leicestershire Action for Mental Health Project) has won the Community Event of the Year Award in this year's Leicestershire Community Champions Awards.
The award recognises the positive impact made by the Lamp 5k Round the World Challenge in bringing the community together in a creative way and raising collective spirits.
The Round the World Challenge was held in May this year during Mental Health Awareness Week (10-16 May), where Lamp challenged people to 'go around the world' by walking, running, cycling, skating or swimming 5km.
The initiative was a resounding success which saw thousands of people locally, nationally and internationally taking part. In addition to many independent participants, around 1,500 people joined the dedicated Strava running group from all over the world, as far away as Russia, Vietnam and India. The aim was to cover enough distance to travel around the world once and this was not only achieved, but doubled by the end of the week.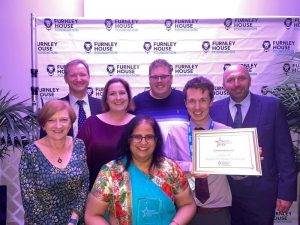 The Lamp 5k campaign was set up to raise awareness of mental health and the benefits of physical exercise to improve mental wellbeing. During Covid, it was essential to encourage people to get outdoors and exercise, and the campaign provided extra motivation to contribute to the total. Exercise is a natural and effective anti-anxiety treatment. It relieves tension and stress, boosts physical and mental energy and enhances well-being through the release of endorphins.
The awards ceremony took place on 18 November at the Leicestershire County Cricket Club. Richard Kotulecki, Lamp's CEO received the award on behalf of the charity. He said:
"We are delighted to receive this award and I want to thank all of you who devoted so much effort to make the Lamp 5k Round the World Challenge a success. Huge thanks are due to many people both inside and outside the charity. While the award highlights the Lamp 5K initiative, it also recognises the other work that Lamp does – work that makes a huge difference to the people in our community. It was an honour to be a finalist in two categories and to win one of those is tremendous."
The Leicestershire Community Champions Awards is an annual event which celebrates the endeavours of Leicestershire individuals and organisations who continually go above and beyond to help and improve the lives of those in need. It also recognises unsung heroes whose work and dedication make a massive difference to the local area which may otherwise go unnoticed.
Plans are already underway for the Lamp 5k in 2022 to make the campaign even bigger. If you would like to sponsor, fundraise or get involved, then please email Lamp or sign up to the charity's newsletter at to get regular updates.