Leicester IT support company to scale the heights of Ben Nevis and raise funds for Lamp and Menphys
Lamp (Leicestershire Action for Mental Health Project) mental health charity is supporting a new fundraising initiative from staff at Leicester-based Kazzoo IT Solutions. They are planning to scale the heights of Ben Nevis on 28 August 2022 to raise around £5,000 for Lamp and Menphys, a charity which provides services and activities that support disabled children and young people.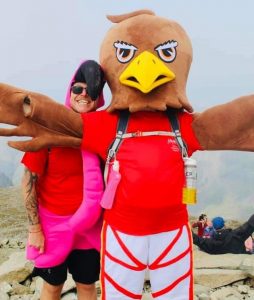 The move follows the success of Kazzoo IT Solutions' 2021 Scafell Pike challenge, which took place in September with 20 participants raising £3,700 for Menphys. Everyone really enjoyed the challenge and some were keen to push themselves further and this inspired Chris Cain, Director of Kazzoo IT Solutions, to set his sights on Ben Nevis, in a bid to conquer the UK's tallest mountain, whilst also using the endeavour as a way to support a good cause.
Individuals or business who would like to join or sponsor the trek can contact Jo Clayton at Kazzoo IT Solutions via email. The challenge will be supported by professional guides on the day at a cost of around £39-£45 each. This will be dependent on numbers (payable by participants) plus any accommodation they may wish to book. Ben Nevis is over seven hours' drive from Leicester, so accommodation will be needed after a 7-9 hour walk up and down the mountain.
Chris said:
"This year's attempt to reach the summit of Ben Nevis is a great way to bring in much-needed cash for Lamp and Menphys, but it is also meant to really challenge the participants. We were encouraged by the warmth, enthusiasm and support shown by those who took part in last year's Scafell Pike challenge and with the attempt to scale Ben Nevis, while it may feel like an uphill battle, great things are achievable when we all pull together. We are choosing to fundraise for Lamp because of the good work the charity does in mental health advocacy throughout Leicestershire. This year we're aiming high and would love to get 20 to 30 people involved in the trek and raise at least £5,000 for the charities. The trek also brings mental health into focus, where the physical activity, involvement with a larger community of people and reconnecting with nature, are just some of the ways in which we can care for our mental health and emotional wellbeing."
Richard Kotulecki, Lamp's CEO added:
"I'd like to thank Kazzoo IT Solutions for coming up with their charity trek to Ben Nevis. We're really excited about the event and hope that it will appeal to people who are looking to achieve a personal challenge or want to experience a new adventure. I am also delighted that the businesses we work with, have come up with increasingly imaginative ways to fundraise. It's because of the help that we receive from Chris and his team and those who take part in challenges like the Ben Nevis Trek, that we are able to continue providing mental health advocacy to people who need our support. If you are considering taking part in the charity trek, don't hesitate – let's make it even bigger and better this year!"
If you would like to take part in Kazzoo Climb 22, contact Matt Barton, Lamp's Corporate and Community Engagement Officer at matthewbarton@lampdirect.org.uk or Jo Clayton of Kazzoo IT Solutions at jo@kazzoo.com
You can also make a donation in support of Kazzoo Climb 22 here: https://www.justgiving.com/fundraising/kazzooclimb22