Leicester man aims to make a difference with Three Peaks Challenge trek in aid of mental health charity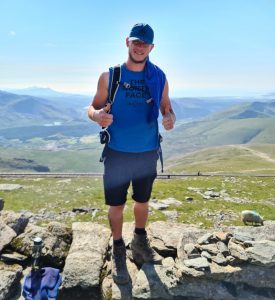 Brendan Harris, a local Leicester man, is aiming to complete the Three Peaks Challenge on 22 June 2022 in aid of the mental health charity, Lamp (Leicestershire Action for Mental Health Project).
The Three Peaks Challenge involves climbing the three highest peaks of Scotland, England and Wales. It is considered one of Britain's toughest outdoor challenges, requiring people to trek a total of 37 kilometres while ascending to a height of 3,064 metres. In 2021, Brendan completed his Three Peaks trek in 27 hours but this year, he intends to push himself and has set his sights on completing the challenge in 24 hours.
As part of this year's attempt, Brendan is aiming to raise money which will support Lamp's mental health advocacy services. Supporters are welcome to make a donation to this cause via his GoFundMe page.
Brendan said:
"This year I am supporting Lamp, a mental health charity, because mental health is huge problem. The money raised will help the charity continue supporting and providing advocacy services to those in need, whilst easing their suffering."
Richard Kotulecki, Lamp's CEO welcomed Brendan's support and added:
"We rely on the support of our community to raise vital funds for us so that we can continue to be there for those who need us the most. We're excited about Brendan's attempt at completing the Three Peaks Challenge and wish him all the best. Every pound he raises during his challenge is going to make such a difference for individuals and families in Leicester, Leicestershire and Rutland, and he should take pride in this magnificent achievement."