Leicester man aims to run 100km in 24 hours for charity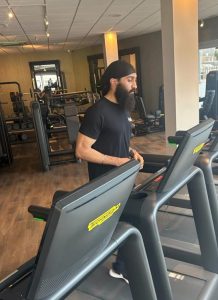 Deyal Singh, a Leicester-based estate agent, is taking on a remarkable challenge to run 100km in just 24 hours to raise £2,000 for charity.
Deyal will start a number of separate runs at 6am on 23 June 2023 to total 100km. He is looking for sponsorship for the challenge and all monies raised will go to the local Lamp mental health advocacy charity. To sponsor Deyal, please click here.
Deyal Singh said:
"Mental health is not talked about enough. I like Lamp's approach to delivering advocacy services for mental health patients, helping to build people up so that they can stand on their own two feet. As a local charity, they were an obvious choice when it came to selecting a charity to raise funds for. It's an enormous challenge and I hope that people will be generous and donate, so I can give back to people who need Lamp's help."
Richard Kotulecki, Lamp's CEO added:
"Deyal is taking on a real challenge with his run. We wish him every success and will be behind him all the way (metaphorically, not physically!)."