Leicester, stay happy with this inspirational calendar
The great people at Action for Happiness always help us to keep going by publishing a 'happy' calendar every month.
We love these. They are full of very useful tips of staying upbeat, postie, active and well.
Each month has a theme and July has been 'Jump Back July',
Here it is and you can follow the link below to see the full series.
Thank you Action For Happiness.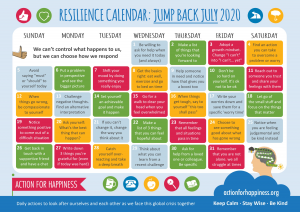 Take a look at all of the calendars here
Do you have lived experience of mental health? Please consider telling us your story for publication on our website. You can get in touch here.