Leicester's Firebug to raise funds for Lamp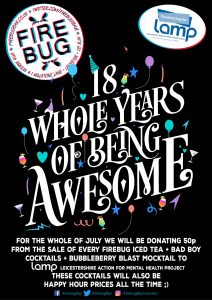 Firebug, one of Leicester's most iconic venues, will celebrate its 18th anniversary this month. In a month-long promotion to mark the milestone event, the bar will donate 50p from every one of its three most popular cocktails, Firebug Iced Tea, Bad Boy cocktail and Bubbleberry Blast mocktail sold, to the Leicestershire Action for Mental Health Project (Lamp).
The bar's incentive to fundraise for Lamp stems from having survived the Covid-19 pandemic. Since opening its doors in 2004, Firebug has experienced many changes, but the pandemic is the biggest event thus far.
According to co-owner, Kat Frater, "While mental health has always been something we have considered with our staff and customers, 18-34 year olds are most at risk from poor mental health. We saw some dark times in 2020 and 2021 and we're now seemingly "out on the other side", but the effects of what some people went through will sadly be long term."
With a predicted 80-100 patrons expected to come through its doors each day in July, Kat said:
"This year for our birthday we're doing something a bit different – for the whole of July we're donating 50p from the sale of every Firebug Iced Tea, Bad Boy and Bubbleberry Blast to Lamp. We have chosen to fundraise for the charity after learning about its vital work in mental health advocacy. Mental health affects us all and it's a cause that is close to our hearts. Plus, we're not just donating funds to Lamp, the charity's staff will hand out their literature about Lamp's services to give our staff and customers direct access to key information and raise awareness of the great work that Lamp does locally. We hope you will be able to join us in July to help celebrate our 18th birthday and raise money for Lamp, but if you prefer, you can make a donation directly to the charity."
Richard Kotulecki, Lamp's CEO added:
"We'd like to thank Firebug for their effort in coming up with the July promotion as a fundraiser for Lamp. We're sure that July will be a busy month and in addition to Firebug's corporate donation, we would also like to extend a huge thank you to bar guests and patrons for their generous support."
Firebug's cocktail promotion in support of Lamp will run throughout July and is billed as one of the venue's highlights of the year. The three drinks will be offered at happy hour prices at all times to encourage patrons to buy them and it is a way for the bar to thank customers for their support over the past 18 years.