Mental health in the spotlight
The Lamp Walk, Talk and Shine event, held on Sunday 10 October at Victoria Park, Leicester marked World Mental Health Day and was a fitting finale to our Shine a Light campaign.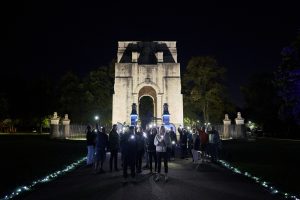 Around 50 supporters joined the Walk, Talk and Shine event as people made their way through the park with their phone lights shining brightly, raising awareness of the importance of conversation for mental wellbeing and suicide prevention.
The event, sponsored by Hollingsworths Solicitors and Rutland House Counselling and Psychotherapy, was organised as part of the Shine a Light campaign which ran from 10 September to 10 October 2021. As participants made their way through the park's tree-lined avenues, they were treated to lights put on by Light Up Creative, illuminating the cenotaph and the path leading from it.
The idea behind the Shine a Light campaign is that you can be the light in someone's darkness by light-ing up someone's phone with a message or that your phone is on for anyone wishing to talk. The theme of Suicide Prevention Day was 'creating hope through action' and a simple action that we can all do is reach out and talk.
Chief Executive, Richard Kotulecki, who took part in the event was buoyed by its success:
"Lamp's Shine a Light campaign places mental health at the centre of conversations while the Walk, Talk and Shine event was a way to encourage people to message someone with whom they may not have spoken in a while, to ask how they are and let them know that they are here to talk if they need to. This simple gesture can make a big difference to someone struggling with their mental health.

"This unique event underlined the importance of sharing experiences which can be a powerful and transformative way to help improve mental health. We look forward to conducting similar events in the future to help raise the awareness of mental health and the role that Lamp plays in mental health advocacy."
Shine a Light complements Lamp's ongoing Talk Campaign which was launched last year in partnership with the Funk Academy to encourage people to talk about mental health. The Talk t-shirts were proudly displayed by supporters during the Shine a Light event.
If you'd like to help us raise awareness, encourage people to talk and further support Lamp with our Talk campaign, then t-shirts can be purchased from the Funk Academy at https://thefunkacademy.co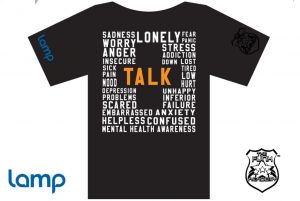 Photo's by Pete Martin Photography