Richard climbs a literal mountain for mental health!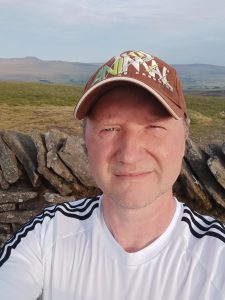 The theme for this year's Lamp 5K campaign in May was 'Climbing Mountains for Mental Health'. Lamp Chief Executive, Richard Kotulecki is taking this (many more than) one step further by taking on the Yorkshire Three Peaks challenge in September to raise funds for the charity.
The Yorkshire Three Peaks Challenge is a 24-mile (38.6km) round trip route, including 1,585m (5,200ft) of ascent across the peaks of Pen-y-Ghent, Whernside and Ingleborough.
Richard will be taking on his challenge on 2 September 2023 and is gathering sponsors to help him to raise funds for vital mental health advocacy services that the charity delivers. If you would like to support him, please click here.
Richard added:
"As I know from my own experience growing up, it is not just the individual whose life is impacted by mental illness, it is the whole family so please sponsor me to take on this challenge. I have a choice in which mountains I climb. The people who Lamp supports very often do not."
Richard has been preparing with a trial run of the first of the peaks, Pen-y-Ghent. With the idea to test leg strength and overall fitness, he successfully accomplished two laps of the trail, totalling around 12 miles of hiking and about 2,500 feet of ascent (about half of the actual ascent).
Between walking up gradually inclined trails, stepped rock paths, and scrambling up steep rocks Richard said:
"There were stretches where I had no doubt I could do this, and stretches where I had to really keep pushing myself to continue. I am on the right track, but need to put in more miles in both the gym and outdoors. On a clear early morning, the views of the Yorkshire Dales are breathtaking and absolutely worth the lung and leg burn getting up there."
For the next challenge during the training period, he will cover the full distance attempting the loop around Rutland Water before having a go at Pen-y-Ghent and Whernside in one outing.