Rock On Wood Festival set to make some noise for Lamp
Loughborough's annual Rock On Wood Festival will take place at the White Hart pub on Church Gate from 22-24 July, as a fundraiser for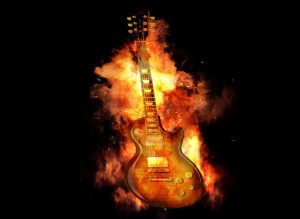 the Leicestershire Action for Mental Health Project (Lamp) mental health charity. This year, the organisers are aiming to raise £1,000 for the charity.
The festival is free of charge and run entirely by volunteers. Lamp will have a stand where festival goers can drop by to learn more about the charity and its work in mental health advocacy. Lamp's QR code will be dotted around the pub to encourage all visitors to donate generously to the charity throughout the three days.
This year's festival will feature the headliners, Midnight Angel, on Saturday 23 July, with their repertoire of classic rock covers, along with the opening act and alternative rock band, New Age Grace. Sunday 24 July will feature The Educators, who play proper old school blues.
Tom Lakesman, the organiser of the festival said:
"We are looking forward to building our relationship with Lamp this year. While the Rock On Wood Festival showcases local musical talent, it is also a great way to raise awareness of mental health charity work. Lamp's services are needed now more than ever, especially in the wake of the Covid-19 pandemic and as we deal with its impact on (the mental health of) our community, so we just want to reach out and support the people in our area. The festival enables us to highlight the importance of mental health whilst also allowing us to host an event where people can come together with friends and family members for an enjoyable weekend that supports a worthy cause."
Richard Kotulecki, Lamp's CEO added:
"We are delighted to be working with the Rock On Wood Festival and are incredibly grateful to Tom Lakesman who is organising the festival, along with the local bands who will share their musical artistry with us. We also want to thank the volunteers and sponsors of this event for everything they will make possible. It's a huge opportunity to raise awareness of Lamp and our role in mental health advocacy – all while having a good time!"
If you would like to volunteer at this year's festival, please contact Tom Lakesman at tom@rockonwood.co.uk