Weiss and Chill Twitch livestream to raise funds for Lamp
In one of the more unusual fundraising efforts, Lamp supporter Liam Miles is hosting a 24-hour Twitch livestream in the hopes of raising a target of £250 for the charity.
The event will kick off at 2pm on 9 April and it emerged in part, from Liam's wish to celebrate gaining 100 followers on Twitch, the interactive livestreaming service for gaming, entertainment, sports, music and more. Liam will be playing Weiss Schwarz (gameplay, deck building, discussions), Minecraft, a visual novel called Summer Pockets, Uno, YuGiOh Master Duel, Mario Kart and Smash Bros, among others. You can join in and follow Liam's fundraising livestream on his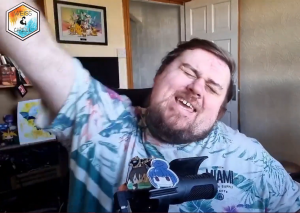 Twitch channel.
Having struggled with anxiety and depression himself, Liam credits Lamp's support and advice as a vital factor in addressing and maintaining his mental health. He said:
"For those that have bad mental health days, you know that these days can be as crippling as a broken leg, but that never fully heals without constant care and careful maintenance."
For this reason, he set himself the goal of raising £250 which will go towards enabling the charity to continue its work in mental health advocacy. Liam added:
"I thought I'd set this up early to give you plenty of time to donate if you are able to – but please do not feel pressured to do so!"
For further details about the livestream and to make a donation, visit Liam's JustGiving page here.